Why Hire a Lawn Care Company for Leaf Removal?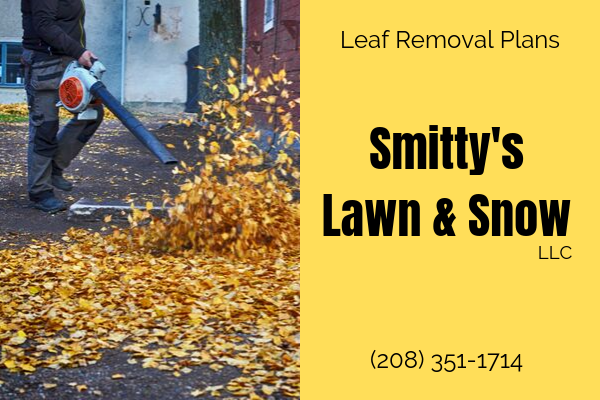 Whether it's time to rake fall leaves before winter, or taking care of Rigby Idaho leaf removal in the summer, Smitty's Lawn & Snow LLC is here to serve you. In the fall, as trees and shrubs shed their leaves, you have a big job on your hands between errands, equipment purchase, bagging leaves and leaf disposal. Yard clean up before the first snow can make your yard a lot tidier, as the snow melts in the spring, and speed up clean up in the spring. Summer brings the challenge of regular yard work to keep the lawn tidy and presentable. Between work, family, and other responsibilities, keeping your yard in top shape year-round is a challenge. During certain times of the year, yard maintenance can seem like a full-time job by itself. Add to this the responsibility of storing and maintaining the proper landscaping and yard maintenance equipment, and you can end up with a costly yard maintenance plan.

If you are busy or don't have a teenager in the house or next door who can help, maybe it's time to look at other options available to keep your yard in top shape. Finding a trusted and reliable company to keep your property looking good can also be a challenge but this is where Smitty's Lawn and Snow LLC can help.
In addition to Rigby Idaho lawn care, the company has expanded to further meet customer needs by adding leaf removal to the menu of services offered. Smitty's Lawn & Snow LLC has been proudly serving the residents of Rigby, Idaho since 2009, offering a wide range of reliable property maintenance services, including Rigby Idaho leaf removal and Rigby Idaho lawn care, expanding to meet residents' needs and requests. Smitty's brings the expertise, range of services, and quality that keeps our community beautiful and our customers satisfied. This is the company you can rely on to meet your specific property maintenance needs and still be within your budget. Please contact Smitty's Lawn & Snow LLC to discuss an affordable leaf removal plan that works for you, or to inquire about our other services.