The Best Snow Removal Services in Rexburg ID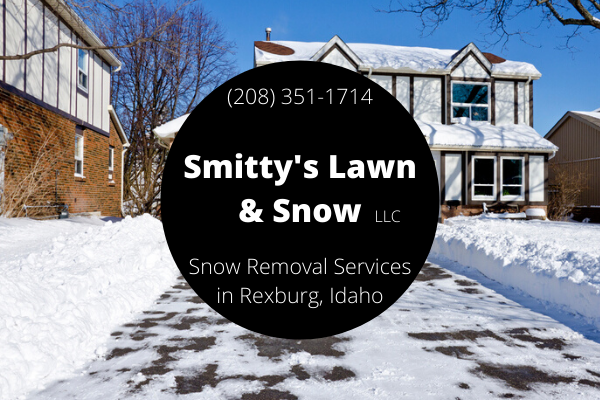 Snow Removal Services in Rexburg ID
Once again, it's that time of year and you'll soon need snow removal services in Rexburg ID. In fact, there is currently snow already, so there's no time to wait. Residential properties, as well as business and large commercial properties, need to get on our schedule, so call Smitty's Lawn & Snow LLC today.
Residential Snow Removal
Smitty's is there to take care of your sidewalks and driveways at your home in Rexburg ID because snow removal is important there, just like at your business, sometimes more so. You may still have people coming and going from your home and you will want to keep them safe.

If you own or manage a large residential unit, give us a call to keep your residents safe. Many people will still go in and out for work or for those needed supplies when they expect to be snowed in. They will thank you for hiring the trusted professionals at Smitty's.

Smitty's provides the most up-to-date snow removal tools and their professionals are experienced and ready to roll on your snow-covered parking lots and sidewalks. They get there early, so your tenants have no problems getting out the door and to their cars. Sidewalks and walkways are cleared early before businesses open.

They come back as needed throughout the day to keep your property safe. Smitty's Lawn & Snow LLC is fast, reliable, and efficient, ensuring you don't have accidents happen on your property.
Business Snow Removal Services
As you know, you can expect lots of freezing, snowy days when you'll need emergency snow removal Rexburg ID. Get on board today and don't worry because they have what it takes to keep your parking lots, sidewalks and entrances clear. They have all the equipment necessary for moving snow and ice, including handheld shovels, snow blowers, truck plows, loaders and snow boxes.

And, Smitty's Lawn & Snow LLC has the team that concentrates on what's needed to protect your customers from those damaging slips and falls so common in winter weather.

No matter the type of property, count on Smitty's for emergency snow removal Rexburg ID, so call them today.