Reliable Emergency Snow Removal Services in Rigby Idaho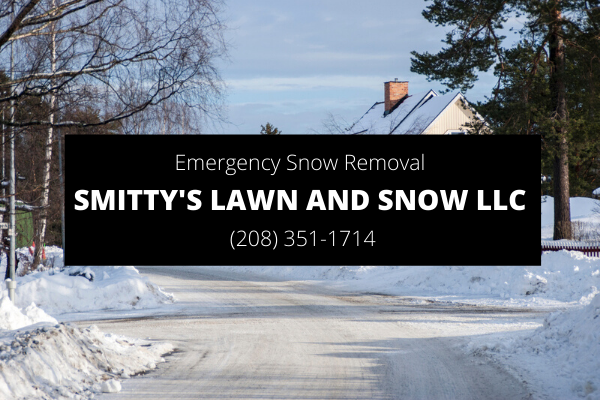 Businesses in Idaho appreciate the fast, dependable Rigby emergency snow removal services supplied by Smitty's Lawn and Snow LLC. This area sometimes sustains very heavy snowfalls. Clearing driveways, parking lots, and sidewalks quickly proves essential during frigid winter conditions in this region.
The Vital Importance of Snow Removal Services
People in this part of Idaho welcome the availability of reliable residential and commercial snow removal in Rigby on short notice and several reasons underlie this need. First, thick drifts sometimes obstruct entrances and driveways. Drivers who spend precious minutes or hours shoveling away snow won't necessarily reach their workplaces in a timely manner.

Second, in some situations, people absolutely must travel through snowy streets to fulfill important obligations. If someone needs to keep a medical or dental appointment or if they plan to attend an important business meeting or social engagement, the prospect of unexpected delays due to snow proves unwelcome. Smitty's Lawn and Snow LLC supplies reliable emergency snow shoveling assistance so local residents can travel more easily. Since customers can't conduct business in locations they cannot access, snow plowing services offer solid value to companies across this community!

Third, many businesses lack the equipment and personnel to undertake rapid Rigby emergency snow removal. Today, full-time snow removers draw upon fast, dependable equipment capable of moving high volumes of powder. Most small businesses don't invest in these specialized, expensive seasonal tools, but manually clearing an icy sidewalk or a large parking lot requires physical stamina. It sometimes proves difficult for employees to accomplish without mechanized assistance!

Fourth, harsh winter travel conditions potentially contribute to higher accident rates. Most business owners take steps to reduce the weather-related hazards faced by their customers and employees. Managers enjoy the convenience of asking a dependable snow shoveling firm to clear away ice and snow whenever the need arises to do so. It makes sense to call upon a local company which already possesses familiarity with seasonal conditions in the Rigby area.
Call Upon an Experienced Snow Removal Firm
Fortunately, residents of Rigby know they'll obtain solid service and fair prices from a capable, well-equipped, local snow removal expert. Smitty's Lawn and Snow LLC at 208-351-1714 serves residents and businesses across the community and customers trust the firm to furnish experienced residential and commercial snow removal in Rigby!